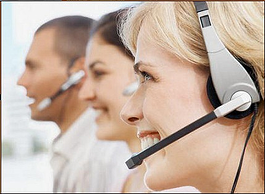 We hear all the time that small businesses comprise the backbone of the U.S. economy. The truth might be even more staggering than you think: According to the U.S. Census Bureau and the U.S. Small Business Administration, small businesses make up 99.7 percent of U.S. employer firms and are responsible for roughly half of the country's economic output. What's more, the SBA's Office of Advocacy reports that small firms accounted for 63 percent of the net new jobs created between 1993 and mid-2013, with small firms in the 20-499 employee category leading in job creation.
And while small businesses may operate in a variety of different industry segments, what nearly all of them have in common is this: They have customers who call into their business, customers who require service, customers who provide the business with their source of profits. Is there a way to capture these important calls – to ensure that customer service representatives are performing properly, that customers are being provided with the highest level of service, and that the business is operating at its optimal capacity?
The answer is a resounding "yes," through the power of call recording software.
As a small business owner or manager, it might be intimidating to think about a complex call/screen recording system, one that requires costly installation fees and hours and hours of training. It doesn't have to be that way. Today, there are solutions that:
Are economically affordable: Can be purchased for a little as (believe it or not) several hundred dollars.

Don't require technical expertise: Anyone can remotely install, operate, or manage the solution, with no special technical expertise or training required.

Don't need ongoing maintenance: There's no need for costly maintenance or troubleshooting.

Can be up and running in less than (really!) 30 minutes.
For small businesses, call recording can offer peace of mind – not only that the quality of service you provide is top-notch but also that you are complying with any regulatory (such as PCI and HIPAA) requirements. That's a vitally important capability, especially because fines for violations of these requirements can be financially crippling for small businesses.
Small businesses aren't like large enterprises – and the needs they have for a call recording solution vary as well. If you're ready to look into a call recording solution, make sure you take into account the following questions when selecting a provider for your enterprise:
Is the solution designed for a company of my size?
Will I have to pay for features really designed for a larger organization?
Can the solution scale to support my company's growth?
Does the call recording vendor have experience with businesses in my industry?
Can the solution address my specific industry and regulatory requirements?
As a small business there really is no need to wait any longer. Call recording solutions exist today that won't break the bank and will provide you with the capabilities you need at a low total cost of ownership.