Health insurance providers can no longer avoid recording their customer/prospect calls. It is now the law.
CMS Final Rule 2023 (from Centers for Medicare & Medicaid Services - CMS) was announced in May of 2022 and stipulates new call recording requirements for health provider agents. This new rule is set to go into effect on October 1, 2022, and it will require all Medicare and Medicaid marketing calls (including enrollment related interactions) to be recorded and stored for 10 years. Its launch date is designed to go into effect just before the start of the 2023 Annual Election Period for Medicare Advantage and Medicare Part D plans.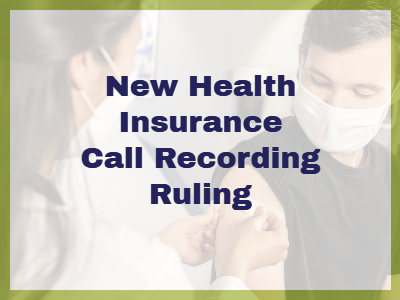 What does this mean for providers?
Health insurance companies must record all calls their agents make, including all sales calls and even enrollment-related conversations. This includes an agent talking a customer through the enrollment process live on the phone.
Recording stipulations include:
The following interaction types (landline, mobile or Zoom) must be recorded:

When agents are calling leads, scheduling appointments, collecting drug and provider lists, and conducting education meetings, and phone enrollments.

When an agent is selling a Medicare Supplement in tandem with a Prescription Drug Plan, the call would need to be recorded due to the Part D discussion.

Any follow up calls related to sales and completing the enrollment process.
All these recordings must be retained in a HIPAA compliant manner for 10 years.
The rule applies to all health care field agents and health care professionals (who enroll beneficiaries in new Medicare Advantage and/or Part D plans.
What should you do?
All companies impacted by this new CMS ruling need to acquire robust call recording software that can capture every single call that is made by its agents and plan enrollers and can safely and securely store those recordings for 10 years. Many all-in-one telephony platforms you may be using offer very limited call recording functionality that will not suffice under the new rule.
It is important to assess your call recording needs by October 1, 2022, in time for the new ruling.