Call recording systems are often times only as good as the team that is adminstering/using them. If an organization has a robust call recording system in place, but its people aren't fully trained or committed to using it to its fullest potential, then the system's perceived success will be very low. This can impact performance and future resource allocation for the call recording system.
For a successful call recording program within your organization, you need to start off on the right foot with the right strategy in place. This will help ensure passionate buy-in for your call recording system from your contact center team, your business users and your management team.
Below is a framework to help you organize and launch a successful internal campaign for your call recording system.
NOTE: Even if you already have a call recording system in place, you can still adapt this process to fit your current needs and breathe new life into your call recording program.
To ensure you communicate the value of the call recording system to all relevant parties within the organization, it is best to view it from a three-tiered perspective consisting of three levels of value - tactical, operational and strategic - each with their own internal target audience(s).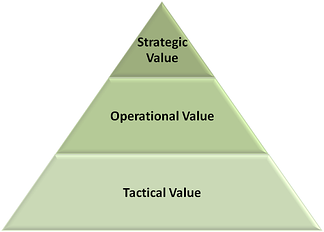 TACTICAL VALUE:
Target - call center agents
This level describes how your call center agents can/should interact with the system. They can review past calls to see what went right and wrong, view performance reports on the length of their calls, the first call resolution rate of their interactions, how they measure up to others in their group, and so on. It is important to communicate these things clearly to your agents to ensure maximum uptake, acceptance, utilization and impact of your call recording system.
OPERATIONAL VALUE:
Targets - call center supervisors and quality evaluators
This level represents how your call center managers and evaluators can leverage the system to improve their jobs. For call center supervisors, this means monitoring agent and group performance to see where improvements need to be made in staffing, skill sets, process workflow and so on. For evaluators, this level is about using the quality monitoring evaluation forms to assess and train agents for improved performance.
STRATEGIC VALUE:
Targets - business users (marketing, sales, product management) and senior managers (VP Customer Service, COO, VP Compliance, etc.)
This level describes the value your business users and management team reap from the intelligence recorded calls can provide. These individuals within your organization can utilize the call recording system to view reports and listen to interactions to better understand customer satisfaction levels, marketing campaign effectiveness, cross-selling and up-selling success, new product ideas, common problems with the product, voice of the customer, etc.
By viewing your call recording system as a comprehensive, enterprise-wide "program" like this framework suggests will help you maximize the impact the system has on your organization and the value your people realize from its use - at all levels.