The VoIP services provider market growing at 34%.
The hosted PBX market will double from 2010 – 2015.
Businesses across all industry sectors have a need for call recording.
Why not be the business VoIP provider to offer it to them? The majority of VoIP providers do not yet offer
VoIP call recording
and
VoIP quality monitoring
software/services. The time is right for you to lead the industry and offer customers a stronger value proposition.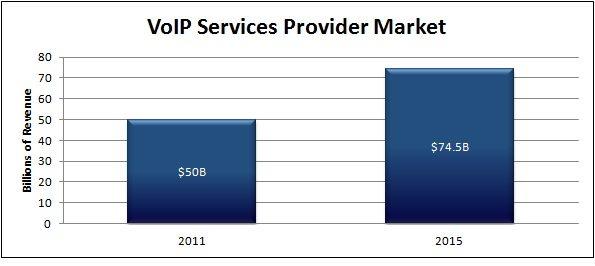 Businesses today - spanning almost every industry vertical - can benefit greatly from call recording in a variety of ways, including:
Quality Management and Live Agent Monitoring – monitor and measure agent performance in order to identify and address areas in need of improvement, with a goal of increasing service levels
Audit Trail and Multi-Criteria Call Searching – quickly and easily locate and access any past recording to settle he-said/she-said disputes
Mobile Phone Recording – capture and monitor staff calls taking place outside of the office and/or after hours
PCI, HIPAA Compliance - adhere to industry and governmental regulations for protecting personally identifiable information
Call recording is a natural extension to your other VoIP services and would be a nice addition to your portfolio of offerings. By offering call recording (and potentially quality monitoring) software, your services business will also enjoy a number of benefits. You will be able to:
Offer companies a broader set of services

Provide your existing clients with more value
Reach into new markets
Grow your ARPU
Differentiate yourself from other business VoIP providers
Keep customers from going to other providers
While there are a variety of call recording/quality monitoring solutions to choose from, open source call center software installs in minutes and can be customized and branded to your business. It is also more affordable than proprietary solutions and requires little to no maintenance.
Just think about how unique you would be as a business VoIP provider by offering call recording as a services along with your other offerings. Check out your competition. Almost none of them are yet offering call recording. When you start doing so, you will be a pioneer and one of the very first. Customers will see you as innovative and more of a full-service provider than your competitors.
You will be able to offer your customers more services, all under one roof, so they don't have to go elsewhere for what they need.
Chances are you have already had customers ask you for call recording and you didn't know how to offer it to them, quickly, easily and profitably. With OrecX call recording software you can!
The time is right to consider adding call recording and/or quality monitoring to your services portfolio.
Get started today!