More and more organizations today are using business process outsourcers (BPOs) to perform some of their most necessary functions. BPO categories can range from front-office customer services, such as technical support, to back-office business operations like billing. Recent research shows that since the mid-1990s, the number and scope of BPOs have grown exponentially, particularly in India, which ranks as the world's preferred market for BPO companies, followed (in no particular order) by Australia, China, the Philippines, and Ireland.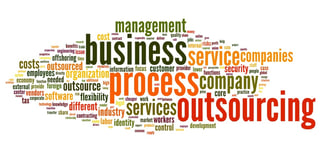 Because they're located offsite from an organization, quality control of BPOs becomes an important consideration, both for the company doing the outsourcing and for those performing the outsourcing services. That's why call recording can offer valuable assistance, providing a window into what's taking place and insight into:
Regulatory and industry compliance: Helping to ensure that all proper procedures are being followed. This includes guaranteeing, for example, that credit card information and personal data are being appropriately handled or that HIPAA (Health Information Portability & Accountability Act) rules are adhered to.
Operational performance: Allowing managers to screen employees' activities to identify areas where workflow was hampered or interrupted. Calls can also provide insight that can assist with staff training and development.
Service quality: Providing access to customer interactions so that managers can know whether agents are providing the highest level of service. And should a dispute ever arise, these calls can be analyzed to help resolve the problem.
Critical business data: Gathering key pieces of information about customers, their concerns, and their buying habits. You can glean geographic data, for example, as well as gain competitive intelligence based on what callers say about what they like or don't like about other products they've tried or are considering.
That's the easy part: knowing you need call recording software. Next comes the hard part: selecting one. Actually, it's not such a difficult choice, because regardless of where you or your BPO is located, you need to look for the same thing when it comes to call recording software – a solution that's affordable, scalable and keeps you in complete control so that you can deliver the best possible results for your business.
When evaluating call recording software for a BPO, look for solutions that offer:
Open recording architecture: You'll want software that's free from any proprietary hindrances.
Ability to work with any operating system, server or database: In "techie" terms, the software should be "system, server and database agnostic."
Open data model: Make sure you own the data.
Customizable solution: Enables you to fully customize the software with open APIs (Web 2.0)
No maintenance required: Worry-free software means you can spend your time thinking about more important concerns.
Software which can be learned and used in minutes: No special training or technical expertise is required to install, operate or manage the system.
Employing the services of a BPO can provide tremendous benefits to an organization, including productivity improvement, improved use of resources, cost savings, and the ability to focus on core business areas. Just make sure your organization is making the most out of its BPO relationship by gaining the insights that only call recording can provide.