It doesn't take great insight to realize that everyone – preteens and retirees, techies and non-techies alike – relies on a cell phone these days. In fact, recent reports by Forbes magazine indicate that more than 80% of all employees use at least one mobile device for business, and that figure keeps climbing as mobile technology grows more accessible and affordable. Consider, too, the increasing number of home-based employees (including those in sales, customer service/support, telemarketing, and the like) who depend on a cell phone, not a landline, to perform their work. So while you may be taking great care to record the phone conversations that occur on landlines in your physical office space, here's an important question to consider: Are you also capturing the calls that are taking place on these numerous and ubiquitous mobile devices?
For most organizations, capturing data through recorded calls makes wise business sense. The truth is, every industry has specific reasons for wanting to record calls, reasons that are unique to their individual operational, legal, and regulatory requirements. Consider the following industries and the reasons why they might want (and need) to record calls:
Financial services: Verify trades and other customer transactions; settle potentially costly customer disputes.
Insurance: Verify insurance coverage and pre-authorization; settle potentially costly customer disputes.
Healthcare: Ensure that medical staff complies with regulations regarding patient privacy and medical records (including compliance with HIPAA – Health Insurance Portability & Accountability Act).
Retail: Ensure adherence to regulatory requirements regarding credit-card data and processing (including compliance with PCI-DSS – Payment Card Industry Data Security Standard).
Telecom and Consumer: Monitor staff to ensure quality, compliant customer interactions.
And this list could go on …
When assessing call recording software for a mobile environment, make sure you're getting the most up-to-date, flexible, and versatile technology possible. For example, one of the biggest challenges is finding a solution that can capture calls centrally and not simply on the device itself. That makes sense: If a phone becomes damaged or lost in the field, then you want to ensure that the call recordings are protected. It's also important to find a call recording system that can seamlessly record calls on any type of mobile platform, specifically the three platforms used by nearly all mobile workers: iOS, Android, and Blackberry.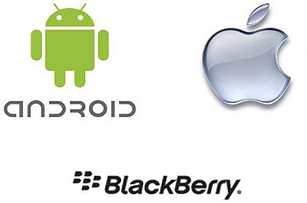 If you're ready to take the next step in selecting a mobile call recording provider, look for solutions that:
Can automatically capture inbound and outbound mobile calls, regardless of where they take place
Do not require you to enter codes, re-route calls off the mobile network, or change SIM cards
Record calls in real time
Do not require any new infrastructure
Are easy to use and install
Are affordable
As mobile technology evolves to become an ever-important aspect of our business and personal lives, make sure you have all the resources in place to capture, analyze and, ultimately, act on the vital information you can acquire by recording mobile calls.