According to Forbes (May 2012) 81% of employees use at least one mobile device for business use. What's more, home-based workers are increasingly using their cell phone as their primary business line. This includes telemarketers, inside-sales professionals, survey proctors, order takers, support technicians and so on. Are you recording these calls like you do landline-based business conversations?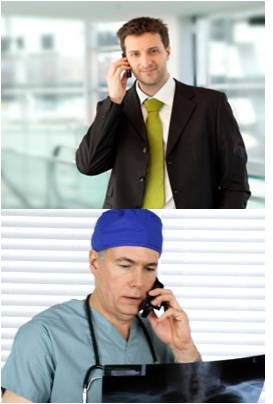 If your business does not capture business calls made over mobile phones, you can't:
1. Settle a customer dispute by replaying the call
2. Verify customer orders
3. Monitor your staff for quality assurance
4. Ensure HIPAA, Truth in Lending, and PCI compliance
Recording for Compliance
In November of 2011, the United Kingdom's Financial Services Authority (FSA) imposed a federal law requiring all financial firms to record mobile business calls for compliance purposes. FSA mobile phone recording already has many on Wall Street and beyond talking about such legislation coming to the U.S. Many of these same U.S. firms are already jumping into mobile recording in anticipation of such impending U.S. law and also to ensure corporate compliance (such as ensuring traders follow corporate protocol when taking customer orders), like they do already with landline calls.
Mobile-Phone Recording Technology
When contemplating which mobile recording software to implement, it is important to consider a recording system that can capture calls centrally and not just on the device itself. If phones become damaged in the field, recordings would therefore be protected. It is also important to employ a system that can seamlessly record calls on any type of mobile platform – from iPhone's IOS to Blackberry and Android. There is ubiquitous usage today of all three platforms by mobile workers.
Industry-Specific Recording Application
Different industries have different business needs when it comes to mobile call recording software. Many firms already capture a sampling of staff/customer calls or every call. Following is a breakdown of some of the different industry applications for mobile call recording software:
Financial Services – Verify trades and other customer transactions; settle potentially costly customer disputes
Insurance – Verify what the insurance company pre-authorized in terms of coverage; settle potentially costly customer disputes
Hospitals – Ensure medical staff comply with regulations regarding patient privacy and medical records
Telecom and Consumer – Monitor staff to ensure quality/compliant customer interaction
These are only a sampling of industry applications. Every vertical today can in fact make a case for recording mobile calls. Regardless of your industry, mobile recording is certainly something you should begin considering for your business.
In closing, here are a few questions to ask yourself:
"Do I record landline staff calls today? If so, why don't I also capture mobile-based business calls for the exact same reason?" The rationale for recording both types of calls in your environment should be the same if you think about it.
If you capture a sampling of landline agent calls today to ensure quality customer interaction, for instance, why wouldn't you do the same with your home-based agents that use their cell phone as their primary business line? Likewise, if you record all office-based calls today made by your insurance agents (to ensure compliance and to settle he-said/she-said disputes, what about all of the other calls your agents make to the very same customers using their cell phones while outside of the office?
With the overwhelming ubiquity of mobile phone use in business today, the time is right to look into mobile call recording software for your organization.