Written by Call Finder
Call recording is used by companies in a wide range of industries to improve customer experience, measure agent performance, ensure compliance, monitor marketing and sales efforts, settle customer disputes, and the list goes on. But call recording is only part of the quality assurance equation. Businesses that understand this are now taking their call monitoring strategies a step further by implementing speech analytics to automatically categorize and analyze recorded calls.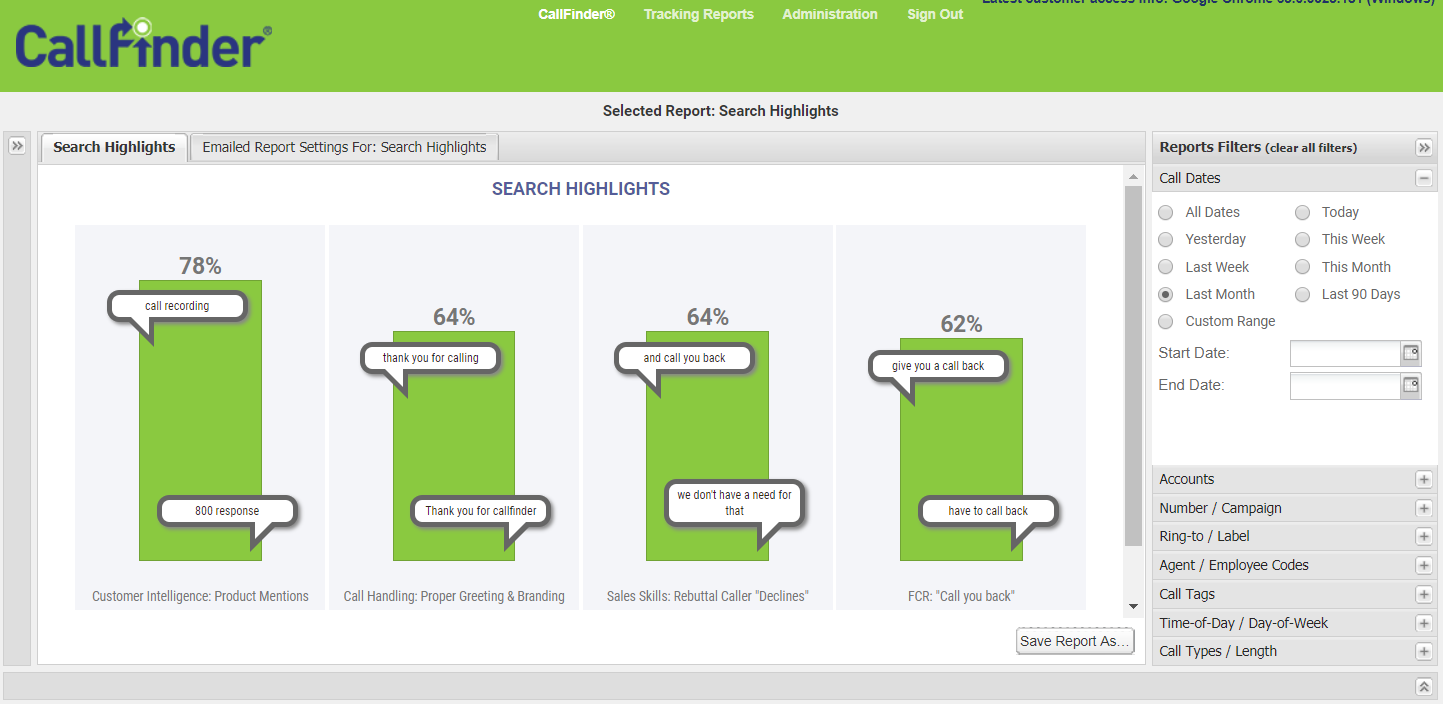 The Business Value of Call Recording with Speech Analytics
Incorporating call recording that is combined with speech analytics technology into daily operations provides enormous value to the business overall, as well as to the many departments within a company that field incoming calls, which hold a wealth of valuable business information. When a business adopts a speech analytics solution, they have access to the following:
Call recordings of every conversation in real time.
Call categorization, based on search definitions and the content of the call recording, along with the context of the conversation taking place between an agent and customer.
Scorecards and reports with metrics on agent script compliance, agent team performance, regulatory compliance, and more.
Insights for agent performance evaluations for training and coaching sessions.
Here are some specific ways speech analytics can add value to a business.
Speech Analytics Increases Efficiency
While many quality assurance metrics can be acquired through reliable call recording software, manually listening to every single phone call is both time-consuming and costly, especially for companies that have call centers with hundreds (or thousands) of agents. Realistically, only a handful of calls can be reviewed by call center managers, which unfortunately doesn't provide a full profile of how their customers view the brand, nor does it provide an accurate picture of their agents' performance.
The addition of speech analytics provides a more efficient and comprehensive approach to gaining business and customer insights through keyword searches and dynamic reporting. A speech analytics solution scans thousands of phone conversations to quickly access in-depth business intelligence contained within each conversation. This provides companies with direct insight into the customers' experiences, their agents' performance, customer satisfaction levels, purchase patterns, customer loyalty and retention factors, etc.
Improve Customer Experience with Speech Analytics
Speech analytics software allows customer service managers to review metrics that indicate how individual agents and entire teams are performing. Because the company using speech analytics chooses the Key Performance Indicators (KPIs), it is crucial to take the time to pinpoint which words and phrases that business wants the software to find in order to yield the specific type of intelligence the business seeks to obtain and understand.
Some keyword examples for customer metrics could be negative or positive phrases, such as "I need to speak to a manager", "Cancel my account" or "You have been very helpful." The software flags those calls for further review so that managers know what's working, or not working, in their agents' customer interactions. It's also important that the call recording software has the capability to record the customer and agent on separate channels (i.e. stereo recording) if the company wants to use call scoring. Agent scorecards are extremely useful in comparing agents' performance across various soft and hard skills, and pinpointing who needs more training or a reward for a job well done.
As a final similar note, to truly enhance your customers' experience with your agents and your brand, a good speech analytics solution should be user-friendly and designed to easily be customized. It should also include training and ongoing support to ensure the solution is fully utilized to manage key business metrics and meet company goals.
The extent of business intelligence that becomes available once call recording with speech analytics is in place will improve operational efficiency, enhance the customer experience, improve the bottom line, and play a key role in keeping a company on a course for continued growth.