We wanted to know which call center regulations most businesses were focused on this year. So, we asked a bunch of call center managers spanning a number of industries (financial, collections, insurance, healthcare, consumer, high-tech and more).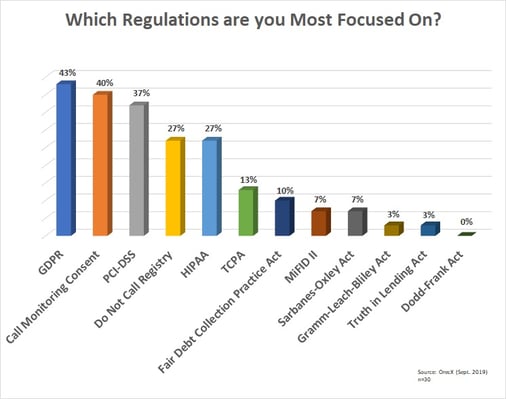 Privacy Regulations
More than a quarter of respondents cited various privacy regulations as their top priority - including GDPR, PCI and then HIPAA. This makes sense as data privacy issues become more and more prevalent. The ability to protect payment card information (PCI), personal health information (PHI) and personally identifiable information (PII) is imperative today. Noncompliance can lead to costly fines, a damaged reputation and even suspension of one's credit card processing privileges.
From a call recording perspective, it is important to have some sort of compliance-enabling capabilities in place, The following features, e.g., can help your contact center conform with these (and other) privacy regulations:
Pause/resume recordings while sensitive information is being shared
Mask/mute recordings while sensitive information is being shared
Encrypt recordings
Protect recordings with permission/password-based access


Consent-Based Laws
Among the top six responses to the survey were a few consent-based laws. At number two was call monitoring consent - those state by state regulations which specify how many parties must consent to a call recording. Number four was the Do Not Call Registry, and number six was Telecommunications Consumer Protection Act (TCPA). These laws are perennial concerns for all contact centers, and this is why you always hear a recorded voice say "This call may be recorded for...". Without such a notification of the intention to record, organizations face financial penalties.
Predictive dialing solutions and campaign management software can help keep your contact center on track with these regulations.
For more information on contact center regulations in the U.S. and across the world, download our ebook below.