Call recording systems have been around for decades and their utility is proven. The same goes for agent screen recording systems, although you may not know it. Many organizations which have deployed call recording have yet to deploy screen recording, and in not doing so, they are really only capturing half of the customer interaction, as much of the agent activity happens on-screen.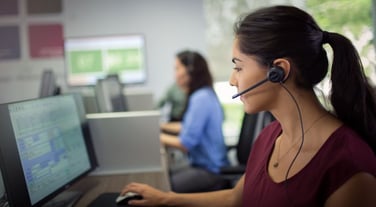 Since your call center agents are on the front lines in terms of interacting with your customers, you want to be able to monitor how well your agents are servicing their needs. When your agents are on the phone with your customers, they should be serving their needs quickly and effectively, by swiftly and accurately navigating the necessary screens on their desktop to access and input customer data, find product/service information, etc. Sometimes, however, these screens or workflows can be interrupted by navigational problems (by the agent or the system) or application glitches (not the agent's fault). Other times, unfortunately, agents may engage in unauthorized or even illegal activity on their screens. With screen recording software, you can monitor these workflows and actions to identify any system or agent issues and remedy them at once. These remedies can translate into substantial time and cost savings as well as risk mitigation for your contact center and enterprise.
Here are the top 10 reasons to record agent screen activity during customer interactions:
Identify application or system breakdowns

that affect agent screen navigation and overall performance and productivity
Discover areas to improve agent efficiency through additional skills training

(for example, increasing proficiency with certain applications or workflows)
Uncover unauthorized personal activity by agents

(for example, checking their own facebook or playing Solitaire during a customer interaction)
Identify PCI, HIPAA or GDPR compliance issues upon data entry

(such as the agent's screen erroneously displaying the credit card information upon entry when it's supposed to be masked).
Record best-practice agent screen performance

to share with under-performing agents
Record worst-practice agent screen performance to share with newer agents to help them avoid similar mistakes
Gain a comprehensive view of customer interactions as they occurred
Prove compliance to regulators by sharing the full interaction - audio and screen video - in order to avoid costly penalties
Identify any fraudulent behavior by an agent
See all of the promises and/or commitments agents make to customers
Agent screen recording solutions today can capture full motion video of the agent's desktop throughout the entire customer interaction. This recording, synchronized upon playback with the corresponding agent and customer audio recording) gives supervisors and managers a clear, 360-degree view of exactly what transpired during a given customer interaction.
For ease of retrieval, recordings (screen and audio) can be identified and accessed by date, user name, agent, phone number, and so on. These same recordings can be shared and viewed in industry-standard MPEG4 format and played or viewed on any desktop or capable mobile device.