Speech analytics software is being used all over the contact center landscape, and not just by enterprises anymore. Auto-transcription and keyword spotting are enabling customer service teams to identify defecting customers, identify up-sell opportunities, collect meaningful competitive intelligence and more.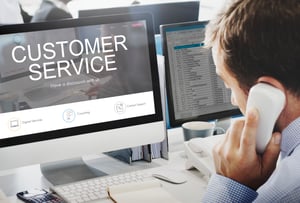 None of this is really news, however, to professionals in the contact center space. But what is new is the fact that you need stereo call recording to optimize the results of the audio transcription for speech analytics. Quality in, quality out. With traditional call recording, both the agent and the customer's voices are captured on the same channel. When there is over-talk, say during an argument, the transcription tool is unable to discern who is speaking and what is being said. This can be an issue for many businesses.
Suppose during the over-talk in a heated discussion about a dispute, the customer says the words "It's my fault". Those keywords could help the organization avoid a lawsuit, but without dual-channel, stereo call recording, those words would never be captured or heard. Here's another example. Imagine if a customer utters the words "I'm done", "I'm leaving" or "I'm cancelling" during an argument, and the agent was speaking at the same time. Those vital phrases would never make their way to the customer retention team, and that customer could be lost forever, to a competitor.
Stereo recording actually improves speech to text, keyword and phrase spotting, speech analytics, and voice biometrics. It high fidelity audio capture capabilities support upper-end audio sample rate formats such as G.711 and OPUS, so you're recordings will feature the highest quality, clearest audio for both transcription and quality monitoring.
So many contact center today unknowingly rely on mono call recording solutions to power their speech analytics. It's true. This is a fundamental flaw in one's customer service strategy that ought to be reviewed and reconsidered.
Another consideration is the value stereo recording can bring to the quality monitoring/agent evaluation process. Supervisors, team leaders and contact center managers rely heavily on recorded customer interactions to identify agent weaknesses and to train agents on what went right and what went wrong during specific customer calls. With stereo or dual channel recording, evaluators can focus on just the agent's or customer's voice and home in on specifically what was said. Mono call recording does not allow for this separation of voice.