According to Gartner Group, "71% of contact center agents are currently working from home." Gartner also reports that "35% of the customer experience workforce will work from home by 2023, up from 5% in 2017."
"When COVID-19 hit, most CX organizations did not have plans for enabling staff to work from home," according to CIO.com. "Within days of shuttering call centers, companies had to have CX professionals fielding customer calls remotely. Many struggled to replicate their CX working environment, including the proper hardware and software necessary to provide call support."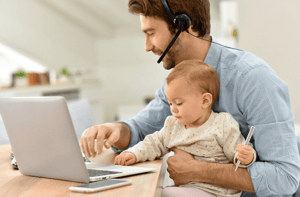 Businesses across all industries have had to scramble to find ways to record their customer interactions with off-site agents. Customer service organizations need to be able to monitor, assess and train their agents to maintain high customer service levels, mitigate costly disputes and ensure compliance with HIPAA, PCI, GDPR, MiFID II, etc. To make this happen without installing expensive remote hardware, businesses need an easy way to securely capture, store and replay their remote agent interactions.
When purchasing remote agent recording software, there are some important features you will want to have, including:
1. Support for VoIP, softphones, mobile and landlines
2. Ability to share recorded data with third party applications like speech analytics and customer service analytics
3. Remote live monitoring
4. Browser-based access to recordings
5. Pause/resume or mask/mute capabilities
6. Voice and screen recording with integrated playback
In short, the pandemic forced immediate change in the call center industry - changes that will persist for years to come. To keep pace with your competition and to continue to serve your customers well, you need to ensure you have the right remote agent recording tools in your arsenal. Your existing call center tools likely won't suffice anymore.