"In software, an audio codec is a computer program implementing an algorithm that compresses and decompresses digital audio data according to a given audio file or streaming media audio coding format. The objective of the algorithm is to represent the high-fidelity audio signal with minimum number of bits while retaining quality." (wikipedia)
Oreka AC (Audio Capture) streaming audio capture solution for speech analytics supports Opus, the highest fidelity and highest bitrate codec. This means your analytics results are the most accurate, based on crystal clear audio transcription.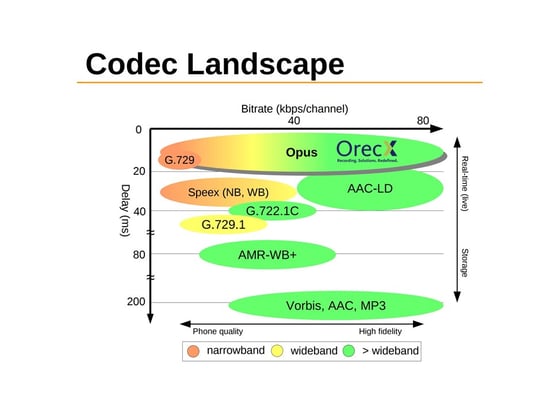 Image source: opus-codec.org
Opus is distinguished from most high quality formats (e.g.: Vorbis, AAC, MP3) by having low delay (5 ~ 66.5 ms). It is unique from most low delay formats (e.g.: Speex, G.711, GSM) by supporting high audio quality (narrow-band all the way to full-band audio). It meets or exceeds existing codecs' quality across a wide range of bitrates, and it operates at a lower delay than virtually any existing compressed format.

Most importantly, the Opus format and its reference implementation are both available under liberal, royalty-free licenses, like open source software, making it:
Easy to adopt

Compatible with free software

Suitable for use as part of the basic infrastructure of the Internet
Why make Opus free?
With the Internet, protocol and codec standards are part of the common infrastructure everyone builds upon.
Most of the value of a high-quality standard is the innovation and inter-operation provided by the systems built on top of it. When a few parties have monopoly rights to monetize a standard, that infrastructure stops being so common and everyone else has more reason to use their own solution instead, increasing cost and reducing efficiency.
Imagine a road system where each type of car could only drive on its own manufacturer's pavement. This creates immense restriction. Fortunately, we all benefit from living in a world where all the roads are connected and accessible to everyone.
This is why Opus, unlike many codecs, is free.
Interested in a free Oreka AC consultation? Please click below.