While customer self-service is a growing trend, and many business-to-consumer interactions are taking place more and more online (email, FAQs, online chat...), voice is still the number one communication channel. Additionally, customers are growing discontent with their vendors and suppliers and cite poor customer service as the reason.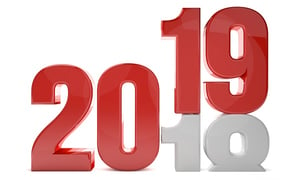 Heading into 2019, you need to ask yourself, "What am I going to do different this year in my call center to improve my customer service levels?" You can't keep doing the same thing and expect different results. Recall Albert Einstein's quote about insanity.
A good place to start in 2019, if you haven't done so already, is to consider deploying quality monitoring and screen recording software, so you can begin assessing your call center agents' performance when interacting with customers. These invaluable tools will provide much-needed visibility into the customer experience, so your call center managers can fix what isn't working. Suppose your agents are being slowed down by complex desktop navigation through the various customer service apps they must access. This is a correctable issue, but without this type of software, you would never know uncover the root cause of your increasing average handle time (AHT).
Here are some important customer service statistics to get you motivated to try something new in 2019:
54% of customers have higher expectations for customer service today compared to one year ago (2017 State of Global Customer Service Report)
73% of customers want to solve product or service issues on their own. (Aspect Software)
Companies lost $75 billion in 2017 from customers switching to competitors due to bad customer service.

(Newvoicemedia.com)

Increasing customer retention rates by 5% increases profits by 25%-90% (Bain & Company)
Customer experience will overtake price and product as the key brand differentiator by 2020 (VisionCritical)
U.S. companies lose more than $62 billion annually due to poor customer service. (Newvoicemedia.com)

After one negative experience, 51% of customers will never do business with that company again. (Newvoicemedia.com)

It is anywhere from 5 to 25 times more expensive

to acquire a new customer than it is to keep a current one. (Harvard Business Review).

After having a positive experience with a company, 77% of customers would recommend it to a friend. (Temkin Group)

75% of customers believe it takes too long to reach a live agent. (Harris Interactive)
Let 2019 be the year you hit your customer service numbers out of the park.