The whole call center operation has literally transformed over the last six months, with most agents working from home. What impact has this had on customer service, if any?
Well, it seems customers are largely giving businesses a pass in terms of CX in the age of COVID - at least for now. According to a report by SITEL":
"More than four in five (85%) consumers have not submitted a complaint to a brand's customer service department during the COVID-19 pandemic, while 14% have (down 18% pre-COVID-19-19)."

"More than two-in-five (43%) consumers (down 30% from pre-COVID-19) would stop doing business with a company during the COVID-19 pandemic if they received poor customer experience, compared to 34% who would not (up 21% from pre-COVID-19)."

"Just 16% of consumers have stopped doing business with a brand or company during the COVID-19 pandemic because of a negative customer experience (down 23% since pre-COVID-19)."
What this tells us is that there is a temporary window in which customers are giving businesses the benefit of the doubt as they work out any COVID-related customer service issues. Many organizations are having to do more with less, having had to lay off many employees due to revenue struggles. Most companies have had to shift to an almost-exclusively at-home workforce, which inherently imposes many configuration, workflow and oversight challenges.
Perhaps a derivative benefit of this customer service scrutiny reprieve is that it gives businesses a chance to rethink their entire customer service operation. If they had any inklings of making changes to the way they service customers, now is the time.
Now is the time, for example, to shift to a cloud-based customer service infrastructure. This alleviates much of the maintenance and troubleshooting associated with premise-based systems and also reduces capital spending.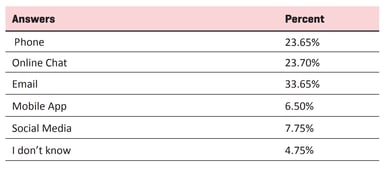 As the telephone remains the number one preferred means of customer communications with businesses during COVID, call recording and quality monitoring solutions should also be looked at. Now is the time, for instance, to migrate to a more open cloud call recording environment.
It goes without saying that this absolution won't last forever. Once COVID is under control, customers will likely go back to a heightened sense of scrutiny. The time to act is now.