Today's contact center is a complex organization with a number of moving parts, all designed to help customers and sell prospects. As such, contact centers need various tools to help them facilitate day to day operations and to continue to move the needle toward being a "profit center" and away from being a "cost center".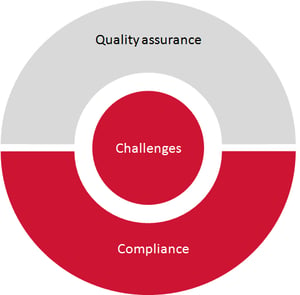 In addition to Workforce Management and Customer Relationship Management software, there is a real need for compliance recording and quality monitoring software – sometimes one or the other and sometimes both. Respectively, these tools help the contact center maintain regulatory compliance and mitigate costly disputes; and also improve agent performance and deliver quality customer service.
Ideally, contact centers should have both compliance recording and quality monitoring. Together, these tools fully empower the contact center to be a real asset to the organization, and at the same time, protect it from undue scrutiny and liability.
Compliance Recording
Companies across many industries (primarily healthcare, financial, insurance, utilities and government, retail) choose to record ALL OF THE CALLS their employees/agents are having with customers and prospects. These audio recordings are then stored securely and kept for a predetermined period of time in order to:
Protect the company from he-said/she-said disputes
Verify order authorization given by a customer, in case a question arises as to whether the customer gave such authorization.
Verify industry or regulatory compliance, for such mandates as PCI-DSS (credit card number privacy), HIPAA (health information privacy), Telemarketing Sales Rule (solicitation protection), GDPR, MiFID II and others.
Having the ability to access a specific recording from a particular conversation can be a lifesaver for the company in terms of proving its innocence. Without such a record, businesses can suffer lofty penalties, fines and loss of privileges (loss of credit card merchant capabilities, for instance) and so on.
Some companies choose to record just the audio of every customer conversation, while others elect to capture both the audio and the agent's screen activity for more visibility into the actual interaction.
Quality Monitoring / Assurance
Contact centers are only as effective as the service they provide to customers and prospects. As such, most contact centers elect to employ quality monitoring software which automatically records a SAMPLING OF CALLS per agent so those interactions can be evaluated for quality purposes.
This so-called "selective recording" can be triggered in a number of ways, all predetermined by the organization. Three calls per week per agent can be automatically captured, for example, or administrators might elect to capture five calls per month, one from each part of the day, for instance. The idea is to only capture a sampling of calls and later evaluate them for quality assurance.
These captured calls can also serve a number of other purposes for the contact center, such as:
Assessing how well agents are interacting with customers
Identifying agent skill gaps and areas for additional training
Understanding how effectively your processes and technologies support customers
Identifying areas to improve operational performance and customer interaction workflow
Generating customizable performance reports to enhance decision making
Improving business processes
Identifying root causes of issues so immediate action can be taken to remedy the problem.
Compliance Recording + Quality Monitoring:
By far, the most comprehensive way to ensure the contact center is operating at its highest level across the board is with a combined solution of both compliance recording and quality monitoring software. This arms the contact center with all the tools it needs to ensure compliance, mitigate risk, improve agent performance and ensure the very best customer service possible.