Organizations of all sizes today employ call recording software to help optimize sales, service and compliance; and when chosen and managed correctly, these solutions can be invaluable in this regard. However, call recording software is not always selected or utilized properly, and when this happens, its effectiveness can be significantly stifled.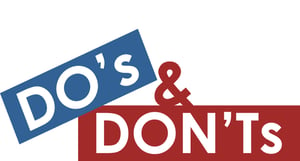 Do This:
Uncover what business challenges you are trying to solve…

Customer experience
PCI/HIPAA compliance
Dispute resolution
Order verification
Agent performance

Consider everyone in the organization who can benefit from call recording…

CEO/business owner
VP customer service/care
Call center manager
Compliance manager
Sales manager
Marketing manager

Decide how many of your physical locations you want to record.

Some recording solutions don't support multi-site.

Consider the vendor's expertise with companies your size and with businesses in your industry. The more they know about your specific business issues, the more they can help customize a solution to your specific needs. If you're a small business, e.g., you ought to look for a vendor that specializes in SMBs. Same goes for larger companies.

Uncover any hidden costs –

Some vendors charge per seat or per user costs. However, these do not include the costly implementation support you'll need for the install, and ongoing professional services support you will require for customization, etc.

Ask about pricing flexibility – Does the vendor offer monthly subscriptions, e.g.? This way you can avoid a large upfront capital expense.
Don't Do this
Don't decide to purchase call recording without carefully considering all the ways in which it can be used and for whom.

Don't just consider how call recording can be used by your organization today. Consider your anticipated growth and how you might need it down the road. Will you need multi-site capabilities, will it scale to more users, does it support mobile call recording?

Don't forget to free up select staff's workload to manage the system – if necessary. Some solutions require no maintenance.

Don't choose your vendor/solution without first trying it out. Ask for a short trial period so you can see how the software works in your own environment. If they refuse, find a different vendor.

Do not assume the software will automatically support your compliance needs.

For example, to help with PCI Compliance, some recording systems will pause the recording while sensitive personal information/data is being discussed. Not all solutions do this, however. You need to be sure the one you choose supports all of your regulatory needs – e.g. PCI, HIPAA, Telemarketing Sales Rule, GDPR, MiFID II…

Do not simply expect the software to easily mesh with your existing environment/systems.

Check to see if the vendor has verified integrations with your PBX vendor or your CRM system, for example. An open API will ensure interoperability with any application.