Many businesses today record some or all their customer interactions for compliance (PCI, HIPAA, GDPR, etc.), quality assurance, or dispute resolution. Others use their recorded conversations for business intelligence. There is truly a myriad of reasons for recording calls.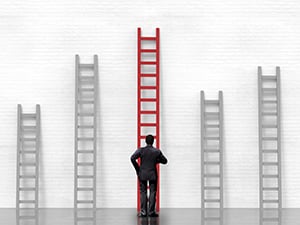 One you may not be thinking of is the notion of competitive differentiation. That's right, leveraging your recordings for the purpose of increasing your competitive advantage. It's kind of a different way of looking at things. In doing so, you can better demonstrate your recorder's value to your management and potentially free up some budget for advanced features like speech analytics or even mobile recording.
Let me explain a little.
Attracting Customers
One of the most prevalent uses of recorded customer interactions is to assess agent performance for the purpose of uncovering skills deficiencies and workflow issues. Call and screen recording are really the only tools you can use to assess these areas without having to sit right alongside each agent for every call.
When you identify problems using call recording, you can not only correct them but also dramatically improve upon them. If your current workflow, for example, is causing longer average handle times (AHTs) than you'd like, don't just tweak your existing workflow - overhaul it and make it far more efficient. There is no excuse for not doing this, and when you do, your AHT will go down, your net promoter score (NPS) will go up, and your customers will be happier. The result is competitive differentiation in the form of customer satisfaction and a more positive public reputation.
Sales Traction
Your inside sales team is the tip of the spear when it comes to prospect outreach and lead generation. Their effectiveness has a direct line to your bottom line. A finely tuned inside sales team can be the difference between hitting your annual sales quota and falling short.
When you record all your inside sales calls - whether inbound or outbound - you are capturing the full conversation, not just handwritten or typed notes. Think about that. You have the complete interaction documented as it happened and can share the recording with your outside reps who will work the deal. Instead of relying on the inside sales rep's account of what happened on the exploratory call, the rep can listen to the interaction and hear for him/herself. This ability to hear the call first-hand, helps bolster sales success.
Competitive Offers
We all know that sometimes customer conversion all comes down to price, and in some cases, your competitors may offer discounts which they don't publicly disclose. Having this information would help your sales and marketing team adjust your promotional pricing to better compete. Not having this puts your teams in the dark, and the result could be lost business without knowing why.
When you record your calls and employ speech analytics, you can automatically identify any interactions in which the customer/prospect mentions one of your competitor's names. Sometimes, along with the competitor's name, the individual may disclose the competitor's pricing or special offer. "Well, XYZ company is offering a 30% discount this week." You can share these recordings with your sales and marketing teams. The result is more competitive pricing and more new customers.
These are just a few of the ways that call recording software can help your business - regardless of industry or size - better compete for mind share and market share.