Agent productivity (or the number of calls your CSRs successfully handle) can mean the difference between thousands (or even hundreds of thousands) of dollars saved or spent each month in your call center, depending upon how large your center is. Any efficiencies you can draw out of your agents will therefore yield tremendous bottom-line value. This is where call recording, and especially screen recording, comes into play.
When your agents are on the phone with your customers, they should be serving their needs quickly and effectively, by swiftly and accurately navigating the necessary screens on their desktop to access and input customer data, find product/service information, etc. Sometimes these screens or workflows can be interrupted by navigational problems (by the agent or the system) or application glitches (not the agent's fault). With screen recording software, you can monitor these workflows to identify any system or agent issues and remedy them at once. As mentioned before, these fixes can translate into substantial time and cost savings for your call center.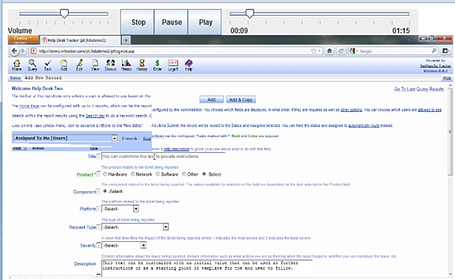 Here are the top five reasons to record agent screen activity during customer interactions:
1. Identify application or system breakdowns that affect agent screen navigation
2. Discover areas to improve agent efficiency through additional skills training (for example, increasing proficiency with certain applications or workflows)
3. Uncover unauthorized personal activity by agents (for example, checking their own facebook or playing Solitaire during a customer interaction)
4. Identify PCI or HIPAA compliance issues upon data entry (such as the agent's screen erroneously displaying the credit card information upon entry when it's supposed to be masked).
5. Record best-practice agent screen performance to share with underperforming agents
Agent screen recording solutions today can capture full motion video of the agent's desktop throughout the entire customer interaction. This recording, synchronized upon playback with the corresponding agent and customer audio recording) gives supervisors and managers a clear, 360-degree view of exactly what transpired during a given customer interaction.
For ease of retrieval, recordings (screen and audio) can be identified and accessed by date, user name, agent, phone number, and so on. These same recordings can be shared and viewed in industry-standard MPEG4 format and played or viewed on any desktop or capable mobile device.