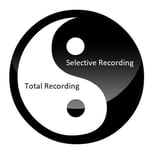 When it comes to call recording software, you have two options: 100% total call recording (capture every single call) or selective recording for quality assurance which captures only a small sampling of calls to gauge customer service levels. Which approach is best for your needs? What do you need to know to make this determination? Are there other advantages to capturing every call? What about compliance, risk management and dispute resolution?
Here are some of the differences between selective and total call recording:
| | |
| --- | --- |
| Total Call Recorder | Selective Call Recorder |
| 100% capture of all calls (audio of agent and customer) | Recording of only a sampling of calls (audio of agent and customer) |
| 100% capture of all agent screen activity (optional) | Recording of only a sampling of agent screen activity – to coincide with the selective audio capture |
| Recordings archived for months or years | Recordings typically not retained long (perhaps a month or two at most) |
| Calls are securely stored and sometimes encrypted to ensure their integrity and to restrict access | Sampling of recordings determined according to pre-set variables (only 3 calls per agent per week, e.g.) |
| VALUE: Recordings used to settle disputes, verify order approval from customers, and verify PCI/HIPAA Compliance, e.g. | VALUE: Recordings used to assess agent performance, identify workflow issues and monitor customer satisfaction |
Ideally, a contact center has both a total call recorder and selective call recording. Together, you have the tools needed to effectively monitor customer satisfaction, assess contact center agents, ensure compliance protocols are followed, and have the ability to resolve he-said/she-said disputes effectively. This combination is becoming more and more prevalent in contact centers today as it gives managers and business users the flexibility they need to get the most value out of recorded customer interactions.