With so many employees and call center agents working from home these days, it is important to ensure at-home staff's work interactions are being recorded, monitored and managed. At the same time, you want to be able to analyze these conversations for customer intelligence and assess staff's performance to ensure high customer service levels.
Most of these individuals are utilizing VoIP, softphones, mobile phones or landlines - and sometimes a combination thereof. You want to capture these conversations remotely and be able to leverage them freely and openly for compliance, customer service, order verification and dispute resolution purposes.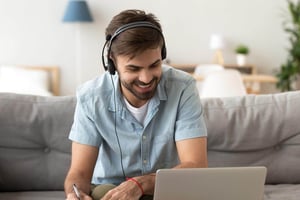 Monitor, Manage & Control
Some vendors make it difficult or even impossible to share your recordings with an analytics solution, restricting your ability to get the most out of your interactions. You want full control of/access to your recordings so they can be shared with the best 3rd party AI vendors for customer experience and speech analytics.
Key Features
Remote site recording
Quality monitoring (with scorecards)
Live monitoring
Create teams/groups on the fly
Browser-based access to recordings
Pause/resume
Active recording (SIPREC, BIB, DMCC)
Mobile recording methods:

VoIP softphone technology
Conferencing the recording system as a PSTN number
Working a mobile-ready infrastructure like SIPREC

Screen recording
Call exporting
PCI and HIPAA Compliance
VPN support
Fine-grained privileged access to recordings
Questions to Ask Yourself
There are several questions you can ask yourself to assess your need to record your at-home agents:
1. Are your agents processing orders with credit cards? [PCI-DSS]
2. Are your agents collecting sensitive customer information? [GDPR]
3. Are your agents offering medical advice? [HIPAA]
4. Are your agents offering legal advice?
5. What types of potential customer disputes could arise?
6. What telephone script are your agents using to collect debt? [Fair Debt Collection Practices Act]
7. Are your agents properly disclosing interest rates on loans? [Truth in Lending Act]
8. What types of orders are your financial agents taking? [MiFID II]
9. What times of the day are your agents making telemarketing calls? [TCPA]
10. What types of promises do your agents make regarding refunds?
Examples of At-Home Interactions you Should Record
Financial:
Stock orders from investment clients
Financial advice from stockbrokers and financial planners
Collections calls on overdue debt
Insurance:
Conversations around specific reimbursement amounts for a filed claim
Annual premium quotes for new coverages
Registration of a new vehicle
Medical:
Primary care physicians prescribing over-the-counter medication
Doctors offering medical advice to a patient
Physician assessing a patient's symptoms
Consumer
Interactions involving a heated discussion
Transactions in which a large refund was promised
Conversations during which the customer promised to pay